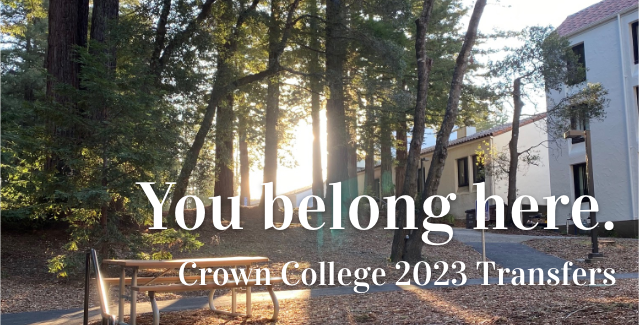 We are so excited to welcome you to the Crown and UCSC Family. 
Transferring can be tough no matter what school you're coming from. Learning to navigate a new school with new policies, procedures and communications can be daunting. Adjusting to a new norm can be frustrating and we want to tell you right now that we are here for you. We will support you through any confusion and will be cheering you on as you find your place here at UCSC.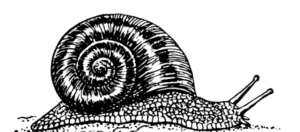 Your next two years will be filled with opportunities, fun, and of course some learning too. As your Crown College Advisors, our goal is to get you connected and comfortable with UCSC and keep you on track to graduation (which we know is important to you!) and we will be working alongside you as part of your team. We are here and ready to answer any questions you may have, and to connect you with other resources on campus. We may not know every answer, but we are a great place to start and can direct you to the best resources for whatever you are facing. Feel free to read our bios and get to know us a little better–we look forward to getting to know you over the next few years.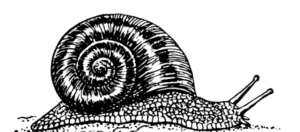 Another member of your team are your Major Advisors located inside the Academic Departments across campus. You will be working a lot with your Major/Department Advisors since you will primarily be in upper division coursework and have already chosen a major. Major Advisors are a great resource and will definitely be a big part of your journey to your bachelor's degree.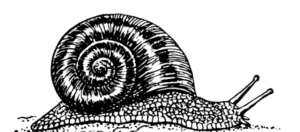 Finally, we want to introduce you to your Crown Peer Advisors. Our Peer Advisors are undergraduate students who are available as a resource to their peers for basic academic advising. They are trained to provide assistance through student-to-student interactions, and may also share personal experiences for further support. In the Fall, your Crown Peer Advisors are available every weekday to assist with navigating your MyUCSC portal, guiding you through enrollment (adding, swapping, editing classes), finding and choosing GE and elective courses, helping you find the correct form, and providing other helpful tips, just to name a few. You will also find helpful advice  from our Peer Advisors throughout this webpage. Until the Fall quarter starts, you will be working with your Orientation Leaders with peer questions and concerns.
Getting Started/Orientation
The most important thing you can do this summer to prepare for your transition to UCSC is to complete your Slug Orientation. You will get information on everything you need to know. The best part is you can go through it at your pace, so if the information gets overwhelming, take a break and then get back to it. This is definitely one of the benefits for online orientation. Just make sure you are completing each of the sections by their deadlines.

Crown might have a lot of science elements, but all majors are welcome here! Crown students connect through creativity and community. It is very easy to feel welcome at Crown and to get plugged in.  Transfer students tend to shy away from getting involved, but connecting with your college and your major is so important and will make your UCSC experience so much better. Being involved has shown to improve GPAs, keep you on track to graduation, help get jobs/internships, connect you with faculty for recommendation letters, network with other students, and it's just fun!  

We know enrollment is one of your top priorities this summer and we understand. Much of what you need to know is found inside the Slug Orientation Course 2. We will also be talking more about enrollment during Virtual Advising Days (more specific information on this to follow). However, we can point you towards several resources and things to think about when planning your fall schedule.
We recommend transfer students take between 12-15 credits in the first quarter; two major courses and elective or GE. You should not be taking more than 15 units in your first quarter. Give yourself time for adjusting to the quarter system and to a new school. We recommend taking KRSG 25 as part of your first quarter schedule. It's a transfer specific class that helps you get connected to the things you came to UCSC for! 
If you completed IGETC at your community college, it will waive your lower division GE courses. In order for this to happen, you will need to have your community college send over an IGETC Certification to UCSC Admissions–it does NOT automatically transfer with your transcript. Here is a guide to IGETC FAQs. If you did not complete IGETC but think you might have completed some of them, you have what is called a "Partial IGETC" and Admissions will contact you with the ways to easily complete your IGETC at UCSC.
You will receive direct communication from your Major Advisors about registration for major course work for the Fall. They will walk you through specific instructions for enrolling in your major courses so please read their emails carefully. 
If you want to start exploring your major, you can find information about each major inside the UCSC Catalog. A catalog is the contract of policies between a university and its students and is a wonderful resource for all kinds of great information. Another great place to find information on requirements for your major is the Getting Started in your Major Guide.
Interested in changing majors?
Transfer students are admitted with a specific major. If you are interested in changing your major, you can only change to a non-screening major and would need to get permission from the Major Department you are hoping to change to (this is not guaranteed). All major advising email addresses can be found in the general catalog page for each major. Please reach out as soon as possible if you are considering a change.
Actually enrolling in classes
The Orientation Office has some great videos for enrolling in courses and will have their wonderful Orientation Leaders available for help when enrolling. Please reach out to them first, if they feel like the question would be better answered by us, they will refer you. 
In future quarters, you will be enrolling on your own so we recommended meeting with Crown Peer Advisors or your Major Advisors in advance to answer any questions you may have.

Many times transfer students shy away from getting involved in clubs and activities but involvement usually makes the biggest difference for transfer students! It can help you feel more connected to your major, career, and to UCSC. College is about learning but also about the connections you make. You don't have to know what you want to get involved with right away, but it's definitely a great time to explore your options!
And so much more! Trust us, if you are interested in something, there is likely a group to get involved with. If not, you can create your own!

Academic Resources and Tips!
College is all about learning in collaboration. You will learn from faculty members and with faculty members. You will also learn from and with your peers, and campus as a whole. No one makes it through their college years alone, and you are not expected to figure everything out on your own. This is why advisors and other academic resources exist!