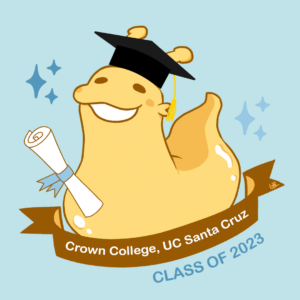 Crown College Slug Crossing
Important Dates and Deadlines
May 10, 2023 – Deadline to purchase cap and gown. Please allow 2-4 weeks for delivery. Order on the Regalia website.
May 10, 2023 at 11:55pm – Deadline to register for commencement. Check out the Marching Order Registration Tutorial and the Marching Order Graduate Login.
May 31, 2023 – Students may begin registering for commencement-specific parking permits through Marching Order. You can receive up to two parking permits for the East Remote (104) parking lot only.
June 16, 2023 from 2:30 to 4:00 pm – Crown Commencement. Participate in Slug Crossing on the Upper East Field. Each graduate will be admitted to the event with up to 6 guests. Your guest tickets will be distributed through Marching Order registration system. Learn more in the "4. Commencement Registration" section of the Commencement Checklist page.
Participate in Commencement
Congratulations Crownies on your upcoming graduation!
Check out this Commencement Checklist for more information about the actions you must take (in advance) to participate in commencement.